Tue, 29 December 2009
Episode 62
It's the end of the decade as we know it and we feel fine!!! OK OK, so maybe the end of the decade for you isn't till next year, in that case, we'll celebrate it again next year, just for you!
Thank you so much for downloading the show, spending a little time with us during this busy season is truly a blessing to us, thank you.
On this, our 18th show of the year, we go over some listener and spend just a few minutes reflecting on the year.
Tonight's feature album is the 2005 release, Tangles, by SJ Tucker! SOOJ! (This is actually the only SJ album that we have featured this year, by the way.) From Tangles, we hear Pixie Can't Sleep and Baba Yaga and we end the show with Mary Mary.
SOOJ NEWS! There is a new Sooj track available and we've got it and we're gonna play it for you tonight! The new track is called Were-Owl, and you can buy it now. Since we're already playing 4 of Sooj's songs, we might as well make it a whole show of Sooj, from Tales From the Road, we hear Rain Falls Hard, which is also on Tangles, by the way...
Old shows coming back!!!! Welcome home!!!! PodKin Love!!!!
We've had another great year doing The Wigglian Way, thanks to you! Thank you so much for everything that you have done for us this year, every comment, every vote, every listen, every goosebump, every shiver, every tingle, thank you. We'll see you next year! xoxoxoxox
It's all about the Love!
---
Wed, 9 December 2009
Episode 61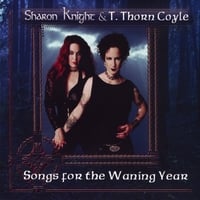 >Well well well, look who's back! That's right, H1N1, hard drive crash be damned, it's us and we're back for Episode 61, thank you so much for downloading the show.
Tonight, Mojo begins his look at the four basic male Archetypes starting with The Warrior. Warriors, come out to play-ee-yay. Sparrow has a Yuletide tale from the Witchy Godmother to share with everyone.
Tonight's feature album is the self titled album from The Devil Makes Three. From The Devil Makes Three, we're going to hear Shades and Old Number Seven and we end the show with The Plank. Great stuff. We also hear Christmas in the Southland by the Bone Poets Orchestra and from Songs for the Waning Year by Sharon Knight and T. Thorn Coyle, we hear Solstice Prayer.
Yule is just around the corner, we can't promise another show before Yule, so everyone here at The Wigglian Way would like to wish you a happy holiday season, whichever holiday that you are celebrating. We're a little spoiled around here at The Wigglian Way because you, dear listener, make it seem like Yule all year round. Every download, vote, comment, and email is a gift to us - thank you!
---
Mon, 9 November 2009
Episode 60
What? Another show so soon? You got that right Brothers and Sisters, we're back! What a quick turnaround! We got news, great news!
Thanks to you, dear listeners, thanks to you, dear PodKin, we have been nominated for the
2009 Podcast Awards, The People's Choice!
Thank you, thank you, thank you! What an honour this is! We've been nominated in the Religion Inspiration category.
But wait, it's isn't just an honour for us, this year we are joined by our good friend
Jason Pitzl-Waters
, his show;
A Darker Shade of Pagan
; was nominated in the Podsafe Music catergory. Great work, Jason!
Voting opens Nov. 13 and runs till Nov 30. You can vote once a day per IP address, which means you can vote from Home, Work, the Library, your Blackberry. Please spare a Wigglian a vote!
Thank you once again for this honour.
Podkin Love!
It's all about the Love!
To learn more about the In Flanders Fields song,
please click here
.
---
Sat, 7 November 2009
Episode 59
Twas a dark and stormy night in Wigglian Town and all the little Wigglians were tucked under the covers to wait out the storm. Then someone broke out some massage oil.....
Thank you so much for downloading the show, we hope that you enjoy it. Tonight, we talk about spells and the Witches Alphabet, Theban.
Our feature album is a new 18 song collection from
Emerald Ros
e
,
That Night In The Garden
. (Thank you, Arthur!). A great new live album, check out the harmonies! Please give a listen to
Twilight Falls
and
Castle of Arianrhod
. We end the show with
Take Me Down
.
Also on tonight's show,
Barrow Song
by
Telling the Bees
and
Falling Star
by
Qntal
.
Podkin Love!
New podcasts mentioned on the show, welcome to the family!
Inciting a Riot
The Scrying Bowl
Book of Shadows
Valley Witches
We love
Moonlit Creations
!!!!!
Thanks again for spending a part of your day with us, we are truly Blessed, by you.
---
Mon, 19 October 2009
Episode 58
I walk with the Wigglians, the Wigglians, they walk with me!
Greeting fellow Wigglians, welcome to Episode 58, we are so glad that you have downloaded the show, thanks. We hope that you enjoy it. This show, it's all about the Crone! First we talk a bit about the Crone archetype then in the final segment we take on the Cailleach.
This episode's feature album is from
Kellianna
,
I Walk With the Goddess
from 2007. We hear the title track,
I Walk With the Goddess
and
Ancestor's Song
. We finish the show with
Kali-Ma
. We also hear
Liquid Moon
from
Trillian Green
and
Rain Gods
from
Kan'Nal
.
____________________
The Witchy Godmother has a new site, check it out
here
.
Two new pagan podcasts out there in the podosphere give them a listen...
Spiritscast with Feithline Stuart
Witchmix with Meena
Podkin Love!
You guys Rock! Thanks for all the emails, and votes at podcast alley and the comments here at the show site. you make us feel all warm and tingly inside! Thanks.
---
Mon, 28 September 2009
Episode 57
Howdy Ho, Wigglians!
Thanks for downloading the show, we're so glad that you have taken the time to download our little show!
Gather round and make yourself comfortable, it's story night, here on The Wigglian Way!
Tonight's feature album is the 2004 release,
Licht
by
Faun
. Faun put on a couple of excellent shows at FaerieWorlds this year. Tonight we hear
Andro
and
Isis
and we finish the show off with
Punagra
.
We also announce the winner of our autographed copy of
Mythcreants
by
Tricky Pixie
!
Pagan Bookworm
stops by with a look at
The Witches Bible
.
Our second set of music features
Daughter of the Glade
, by
Tricky Pixie
and
Corn King
by
Inkubus Sukkubus
.
Podkin Love!
Thank you everyone, for listening to the show, supporting the artists we play, for sending us emails, gosh darn it, for everything you do, thank you.
It's all about the Love!
Peace out!
---
Sat, 12 September 2009
Episode 56
Well met, Wigglians! Thank you so much for taking the time to download and listen to our little labour of Love! Tonight's show is all about the pentagram! We also announce the winners of the
D2D
CD '
Remixed
' and the winner of the beautiful piece by
Mel Kickland
.
Tonight's feature album is the first album by
Sharon Knight
, '
Incantation
'. We play
Bardic Voices
and
Mother of the World
and we end the show with
Bewitched
, please enjoy. We also hear '
Pentagram
' by
Chalice and Blade
and '
Etrezomp-ni_Kelted
' by
Omnia
.
PodKin Love!
Thanks again for downloading the show, it means so much to us!
YOU
are the bestest listener ever!
---
Thu, 20 August 2009
We'd like to thank Juniper from
Walking The Hedge
and Pax from
Chrysalis
for awarding us the "
Real Witch Achievement Award
". We would also like to thank our Moms!
The rules are as follows:
This is meant to be a show of respect and/or appreciation, but it can still be delivered with some affectionate humour and so forth
This award can go to any website, group, blog, individual, podcast, organization, magazine or newsletter, forum, networking site and so forth that you feel has done a good service to the community or added something important, special, unique etc to the Community.
~Post the award on your website, blog, etc in some way. Remember to thank your mom!
~Mention the person who gave you the award.
~Select three new recipients of this award you feel are worthy.
~Send them the award via email, by commenting on their forum, by printing it and handing it to them, etc
~Announce your choices on your website, in your magazine, on your podcast etc
For our three choices, we are giving the awards to: (Thanks for everything you do for the pagan community!)
The Witch of Forest Grove
The Proud Pagan Podcasters
(like we could pick between our PodKin)
The Wild Hunt Blog
The Wigglian Way has been in blessing in our lives, all thanks to our dear listeners!
We love you!
---
Mon, 17 August 2009
Episode 55
Home Sweet Home!
Hey Wigglians, we made it home safe and sound. Wigglian Exodus 09 is officially over... As you may have guessed tonight's show is all about the trip.
Tonight's feature album is
Mythcreants
by
Trixie Pixie
. Released at FaerieWorlds, please enjoy
Taglio
and
Dryad's Promise
. We finish the show with the hauntingly beautiful
Tam Lin
(you can find more on
Tam Lin
here
). We also feature new music from
Bone Poets Orchestra
have a listen to
Spin
and
Belladonna Smiles
.
Link for
Liz Aid
.
An amazing artist
Mel Kickland
. Check out her
Etsy Store
! Moonlit Creations! You can win this
amazing piece
from Mel, listen to find out how!
The Wigglian Nation shows us so much love that it's unbelievable! Thank you all so much!
Podkin Love!
---
Mon, 27 July 2009
Episode 54
Hot time, summer in the city, back of my Wigglian gettin' dirty and gritty!
Whoa, it's a hot one here at The Wigglian Way studio. Final preparations are underway for Wigglians on the Road '09. Thank you for taking the time out of your busy summer to spend a little time with us, we sure appreciate it!
So nice we had to have to have him twice, our good friend
Steven
is steering the good ship Wigglian tonight.
Eco-Priestess
also stops by to lend a voice in the third segment! What a show!
Tonight's feature album is by a great Vancouver based band
delhi 2 dublin
. From their self titled CD
delhi 2 dublin
, we hear
nightstep
and
apples
. We finish off the show with
dil nachde
. delhi 2 dublin will be appearing at this years FaerieWorlds!
Also appearing at FaerieWorlds this year is
Tricky Pixie
and tonight we have a sneak preview (thanks guys, we love you) from their new album,
Mythcreants
please enjoy
Mushroom Song
. New to The Wigglian Way, check out
Xavier Rudd
with
Messages
, from his album
Food in the Belly
.
Here is a link to
Menstuff
, a site that Steven referenced in his research for segment 2.
Podkin Love!
Sparrow and I are going on the road in two days! Along the way we'll be stopping at
FaerieWorlds
,
Redwood National Park
and
SpecMouse Studio
to have our picture taken. (thanks Thea and Julius!)
Please be safe over the summer, we love you and we'll be back in a couple of weeks. WIGGLIANS HO!
---